When best-selling author Mark Miller (The Secret with Ken Blanchard) looked into what it takes to be the type of leader that people want to follow, he boils it all down to what he calls their "leadership character."
He introduces the book with this:
"If you want to predict people's ultimate success as leaders, evaluate not their skills, but their leadership character." 
by Mark Miller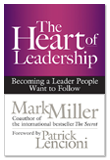 Mark Miller has a very practical, detailed, and compelling way to communicate how to become a leader that other people want to follow.
Premise:
Taking on the career and life challenges of a fictional young up-and-comer named Blake Brown, the book takes the reader through his quest to learn what it means to be a great leader. Rather than being given a simple checklist of do's and don'ts, Blake's former mentor takes him on a journey to meet five of his late father's colleagues to help him assemble his thoughts and put his future plans together.
Intro:
Going beyond the acquisition of skills, knowledge, tactics and strategies, vision, communication, etc., Miller stresses that leaders need to develop and elevate their leadership character. He points out that leadership character is much more that one might think. He illustrates through the meetings that Blake has with his late father's friends that leadership character goes far beyond things like:
Integrity
Honesty
Loyalty
He maintains that these elements SHOULD be held by everyone in the organization. Going beyond these basic points is where one finds what it takes to develop and improve to the point where others WANT to follow you.
He says that leaders are like icebergs, where the vast majority of leadership character is hidden in one's heart like the part of the iceberg that is unseen under the water line.
He concludes that the heart of this submerged leadership character is in service to others.
A Reader's Guide
Expect to be reading this book quickly. The pace is easy and the natural structure of the book makes it easy to read in a sitting, or two. It is logical and flows well. The characters seem real enough and the detail is very good. Although some of it may seem basic at first, herein lies the brilliance. Miller is able to make the components seem simple, but the assembled complex. I think this is why the stories seem to stick well in my head.
I found myself examining my past behaviors through several of the characters points-of-view. This happened with characters both younger and older than me. I found myself "relearning" lessons I should have learned in my twenties.
And like all good trainers, Miller puts in easy to remember acronyms like this:
H.E.A.R.T
H – unger for Wisdom
E – xpect the Best
A – ccept Responsibility
R – espond with Courage
T – hink Others First
Favorite Line:
"The heart is a muscle, and you strengthen your muscles by using them. The more I lead with my heart, the stronger it gets."
The book has a strong focus on self-examination with an honest eye on identifying gaps and filling them in with thoughtful improvements. Again, this boils down to exercising one's heart in thinking and acting selflessly and toward the benefit of others.
To help the reader, the book has a free and easy self-assessment in the back of the book.
It helps readers rate themselves in these areas covered in the book with the character Blake:
Hunger for Wisdom
Expect the Best
Accept Responsibility
Respond with Courage
Think Others First
Then it provides four action steps to take to increase your leadership character. (But you will have to get the book the find out these action items!)
Get This Book
I really enjoyed this easy, effective, and memorable book. The steps are clear, the pace is quick, and the message of leading with one's heart through servant leadership is spot-on.
I give Mark Miller's newest book L2L 5-Stars.
You can buy it here.
**********
Never miss an issue of Linked 2 Leadership, subscribe today here. 
Learn, Grow & Develop Other Leaders™
——————–
Tom Schulte is Executive Director of Linked 2 Leadership
He provides leadership training fit for the Blackberry-Attention-Span
Email | LinkedIn | Twitter | Facebook | Web | Blog | L2L Group
Image Sources: tommyland
Related articles